Do you remember that Seinfeld bit where Jerry talks about Nighttime Jerry and Daytime Jerry? He says,
I stay up late at night because I'm Night Guy. Night Guy wants to stay up late. What about getting up after 5 hours of sleep? Oh, that's Morning Guy's problem.That's not my problem; I'm Night Guy. I stay up as late as I want.

And you know, you get up in the morning to the alarm and you're exhausted and groggy - Ugh I hate that Night Guy! See Night Guy always screws Morning Guy. There's nothing Morning Guy can do. The only thing Morning Guy can do is try to oversleep often enough that Day Guy loses his job and Night Guy has no money to go out anymore.
So good. So true! How many times have you stayed up too late because it's the only time you get to yourself, and then you're exhausted the next day? This behavior has actually become a bad habit of mine. I'm a total Mombie (Mom/ Zombie) most of the time. I know that if I'd just look out for Morning Me I'd be way better off. 
And just like going to sleep earlier is in my best interest, cooking a meal and freezing it to have when we get home from a trip is too.
Think about it, is there anything worse than coming home from a long day of travel and realizing you have no food in the house and you have to make dinner? That's the worst! 
You've just survived security checks, lines, public restrooms, waiting at the gate, managing your kids on the airplane, waiting for luggage and driving home. Then you walk in the door, put your bags down and everyone looks at you, like "what's for dinner Mom? I want a snack" and all you want to do is go hide under the bed. 
So, don't screw post-vacation you by forgetting dinner. Do yourself a favor now and whip up an easy go-to meal that you can freeze. Then, when you get back home, pop it into the crockpot, instant-pot or microwave and ta-da! You're amazing! So prepared! Well done You! You'll feel great knowing you looked out for your future self (and family).
Here are some of the best, healthiest, and easiest make-ahead (and then freeze) meals we've found to make cooking something extra before takeoff worth it. 
If you come home in the morning
If you plan to arrive back home in the morning, the crockpot is your friend. If you have time to dump your freezer meal into the crockpot between 10AM and noon, you'll have a great dinner ready by 6pm.
Don't forget to purchase plenty of non-perishable snacks and some lunch ideas (like canned tuna or chicken) before you leave, so everyone stays happy and fed throughout the day.  
This recipe is from Epicurious. Epicurious is my go-to for tried and true recipes. I love that you can filter by so many categories (easy, kid, dinner, gluten-free, whatever). This white chicken chili is a crowd pleaser. It's delicious and I love that it includes canned beans and frozen corn - both are super easy and usually on hand.
Serves: 6 people         Active Time: 15 minutes        Total Time: 4 hours, 15 minutes
INGREDIENTS
2 pounds boneless, skinless chicken thighs
1 1/2 large onions, finely chopped
1 medium jalapeño, seeded, finely chopped
4 garlic cloves, finely chopped
2 (4-ounce) cans diced green chiles, preferably "fire-roasted"
2 teaspoons ground cumin
1 teaspoon ground coriander
3 teaspoons kosher salt, plus more
1/2 teaspoon freshly ground pepper, preferably white, plus more
6 cups homemade chicken stock or low-sodium chicken broth
1 1/2 cups frozen corn, preferably "fire-roasted"
3 (15-ounce) cans white beans, preferably cannellini, white kidney, or Great Northern, drained, rinsed
Sour cream, cilantro, lime wedges, and cornbread (for serving)

Special Equipment

A 6-quart (or larger) slow cooker; a resealable gallon-size freezer bag; a resealable quart-size freezer bag (if freezing)
If making immediately, combine chicken, onions, jalapeño, garlic, chiles, cumin, coriander, 3 tsp. salt, and 1/2 tsp. pepper in slow cooker. Pour chicken stock over, cover, and cook on high 4 hours or low 6–8 hours.
If making a freezer packet to cook later, place chicken, onions, jalapeño, garlic, chiles, cumin, coriander, 3 tsp. salt, and 1/2 tsp. pepper in gallon-size bag; toss to combine. Place corn in quart-size bag, then place inside larger bag. Seal and freeze up to 3 months.
Transfer chicken mixture to slow cooker; return corn to freezer. Pour chicken stock over, cover, and cook on high 4 hours or low 6–8 hours.
To finish chili (whether fresh or frozen), add beans and corn during the last 30 minutes of cooking; cover and cook on high 30 minutes. Taste and season with salt and pepper, if needed. Shred chicken in slow cooker with 2 forks.
Divide chili among bowls; top with sour cream and cilantro. Serve with lime wedges and cornbread alongside.

Do Ahead

Chili can be made 3 days ahead; cover and chill, or freeze up to 3 months.
I first found Kelly of the Family Freezer when my husband and I attempted to complete a Whole 30 round about a month after our son was born. Kelly is awesome, but this was a terrible idea. I do not recommend removing all bread and alcohol from the house right after having a baby. My husband and I were both on edge, sleep-deprived, and hangry. It was no bueno. 
The best thing that came out of that 2 weeks of clean eating, was finding the Family Freezer and learning that you can put a whole recipe inside of a freezer bag (including spices), freeze it, then when you need it - dump it all into a crockpot and voila! Dinner's ready! Mind. Blown. 
Kelly's recipes check all of the boxes - healthy, quick and easy to prepare, minimal dishes, and they all taste delicious. #winning
Here's The Family Freezer's Crockpot Tuscan Chicken recipe below. Be sure to check out her Instagram page @thefamilyfreezer and her website thefamilyfreezer.com for more awesome crockpot and instant pot recipes.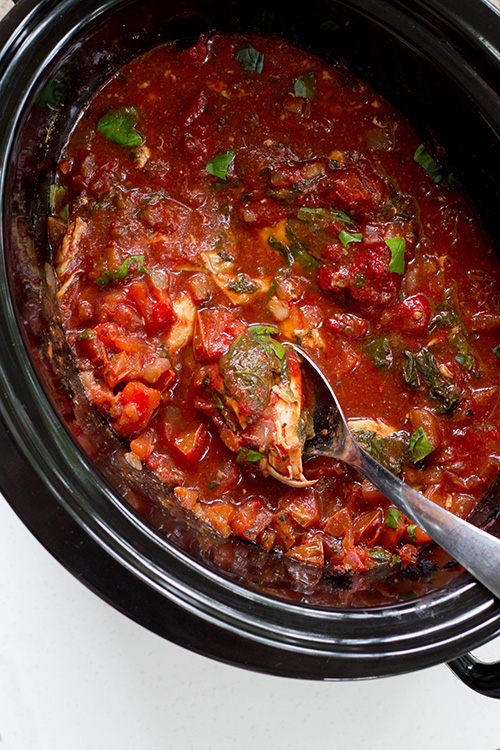 From TheFamilyFreezer.com
Yields: 6 servings
Ingredients
2 pounds boneless skinless chicken breasts, fat trimmed
4 medium-sized tomatoes, cored, seeds and juice removed, and diced (You can sub 28oz can diced tomatoes – undrained – if fresh tomatoes aren't in season)
6oz can tomato paste
2-3oz fresh baby spinach
1 small yellow onion, diced (one cup)
1 tablespoon Italian seasonings
1 teaspoon basil
1 teaspoon garlic powder
1/2 teaspoon salt
1/4 teaspoon pepper
1/4 teaspoon crushed red pepper flakes
Directions
Add all ingredients to crockpot and cook on "low" setting for 6-8 hours or until chicken is cooked through and tender.
Shred chicken breasts or serve whole.
To Freeze and Cook Later
Label a gallon-sized plastic freezer bag with the name of the recipe, cooking instructions, and "use by date" (which should be 3 months from when you prepped the meal).  Add all ingredients to your freezer bag.  Remove as much air as possible, seal, and freeze for up to three months.  When ready to cook, thaw overnight in the refrigerator or in the morning in water and follow cooking instructions above.
Top with shredded mozzarella and parmesan cheeses.  Serve over spaghetti. YUM.
If you come home in the evening
If you plan to arrive back home in the evening, soups and chilis are great go-to's that heat up quickly on the stove or microwave. Perfect for coming home after holiday travel. Here are some of our favorites:
I used to just order a pizza when we got home from a long trip, but honestly, that's not what any of us need. After days of letting loose with our food choices and bedtimes, my family needs some structure, clean eating, and our own beds.
So, enter Ronny, the Primal Gourmet. If you're not already following him on Instagram, @primalgourmet, you are missing out!  He makes the best cooking Instagram Stories and his food is clean and delicious. I follow him on Spotify too for the best dancing in the kitchen music. Check out more of his recipes at cookprimalgourmet.com. 
 Picture from: http://cookprimalgourmet.com/sausage-potato-kale-soup-whole30 
The Primal Gourmet's Sausage, Potato and Kale Soup - Whole30
Prep Time: 
10
mins           
Cook Time: 
45
mins           
Total Time: 
55
mins
This Sausage, Potato and Kale Soup is the ultimate bowl of comfort food during the colder months. It's easy, delicious and makes for great leftovers!
Ingredients
4

Italian sausages

(spicy, medium or mild – removed from casing)

2

celery stalks - diced

2

carrots - diced

1

leek – roughly sliced

1

head kale – roughly chopped into ribbons

5

red potatoes - cubed

2

cloves

garlic – finely sliced

2

tbsp

fresh parsley – roughly chopped

1

tbsp

fresh thyme leaves

2

bay leaves

1.5

tsp

sweet Spanish paprika

1

tsp

dried chili flakes

optional

1

tbsp

Extra Virgin Olive Oil

(EVOO)

1

litre chicken stock

kosher salt
Instructions
Preheat a large stock pot or Dutch oven over medium heat.

Using a paring knife, make a shallow incision along the length of the sausage. Peel back the casing and discard. Add the sausage meat to the pot along with EVOO.

Using a wooden spoon, break the sausage into large chunks approximately 1" thick, or smaller if so desired. Brown sausage on all sides (approx. 8min total).

Add celery, carrots and leeks. Cook until vegetables have slightly softened (approx. 10-12 min). Add garlic and cook an additional 60 seconds. Then add paprika and chili flakes and cook 60 seconds more.

Add stock, potatoes, thyme and bay leaves. Stir and bring everything to a steady simmer. Cover with lid and cook until potatoes are fork tender (approx. 12-14 min).

Add kale and cook 3-4 minutes. Taste for seasoning and adjust salt as required. *Tip: if the soup is too salty or thick, simply add water ½ a cup at a time until desired consistency and taste is achieved.

Add fresh parsley and stir everything to combine.

Ladle into individual serving bowls and enjoy!
** If making ahead, let the soup cool then transfer to freezer bags or glass containers and freeze until needed. You can thaw the frozen soup by submerging sealed containers into warm water (if you froze them in freezer bags) or in the microwave if you froze them in glassware.
This recipe may be the easiest and tastiest one yet! Becca, of the Simply Veg, makes vegetarian food that even the pickiest of carnivores will devour. Her website offers everything from clean eating to the yummiest, cheesiest casseroles you'll want to bring to holiday gatherings this year.  
Check out her website and Instagram feed @the.simply.veg for tons of great veggie recipes and tips on meal planning. 
From http://thesimplyveg.com/five-simple-soups-winter/
Prep Time: 
5
mins                  
Cook Time: 
4
hrs                
Total Time: 
4
hrs
5
mins
Serves 4
Ingredients
For the Soup
1

large onion

diced

1

large bell pepper

diced

15

oz

can black beans

drained and rinsed

15

oz

can pinto beans

drained and rinsed

2

cups

vegetable broth

1/2

cup

medium salsa

10

oz

can diced tomatoes in green chiles

1/2

tsp

cumin

1

tsp

chili powder
For Serving
tortilla chips

cilantro

sharp cheddar cheese

shredded
Instructions
 Add all of your soup ingredients to your slow cooker, stir, cover and cook on LOW for 4 hours.

When time is up, turn off your slow cooker and use your immersion blender to puree some of the soup. Make it as blended or not-blended as you like! You could also transfer 1-2 cups of the soup to a blender to puree, then return to the slow cooker.

Turn the heat back to LOW and give everything a big stir, making sure it is well heated throughout. 

Ladle into soup bowls, and top with crushed up tortilla chips, cilantro, and shredded cheese. Enjoy! 
** If making ahead, let the soup cool then transfer to freezer bags or glass containers and freeze until needed. You can thaw the frozen soup by submerging sealed containers half way in warm water or in the microwave if you froze them in glass containers.
I hope these recipes serve you well or at least spark your imagination for great, easy meals your family will love to come home to. For many more delicious recipes, be sure to check out:
thesimplyveg.com
cookprimalgourmet.com
thefamilyfreezer.com
epicurious.com
What's your favorite easy go-to meal? Let us know in the comments below!